THE SNIPER
As the tyrant enters his cross hairs the breath he takes is deep
His focus is square on the target as he begins to release
A patriot for his people he knows this shot will cost his life
But for his race and their existence it is a small sacrifice

The bullet that he has chambered is one of the purest pride
And the inscription on the casing reads DIE negro DIE
He breathes out as he pulls the trigger releasing all his hate
And a smile appears upon his face as he seals that monkeys fate

The bullet screams toward its mark bringing with it death
And where there was once a face there is nothing left
Two blood covered agents stare in horror and dismay
Looking down toward the ground where their president now lay

Now the screams of one old negro broad pierces thru the air
Setting off panic from every eyewitness that was there
And among all the confusion the hero calmly slips away
Laughing for he knows there will be another negro holiday

By Johnny Spencer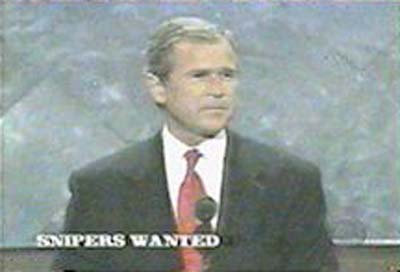 On August 4, 2000, when Bush won the Republican nomination (but before he was president), Craig Kilborn on CBS's The Late Late Show with Craig Kilborn ran a graphic of the words "SNIPERS WANTED" under George Bush as he gave his acceptance speech. Although CBS belatedly apologized five days later, Kilborn was never investigated, questioned or punished, and continued to host the show for four more years.
RONBO SAYS:
So let me get this straight: It's okay to threaten a conservative president like Bush on comedy shows, books and movies, but a felony to threaten a fascist president like Obama in a poem that doesn't even mention him by name and was first published two years before he assumed office?
Something is VERY rotten in the State of The Union.
---
Ky. man who admitted writing poem threatening Obama's life is sentenced to 33 months in prison
LOUISVILLE, Ky. — A Kentucky man who acknowledged writing a poem threatening the life of President Barack Obama was sentenced Monday by a federal judge to 33 months in prison.
Johnny Logan Spencer apologized for writing the poem, which depicts a fatal sniper shooting of the president. Spencer, 28, said he was upset at the time over the death of his mother and had fallen in with a white supremacist group.
"These groups were just a way for me to cope," Spencer said Monday in federal court in Louisville. "I took things they said a little too far." Spencer said the group helped him kick his drug habit.
He had pleaded guilty to a charge of threatening the life of the president, which carries a maximum sentence of five years in prison.
U.S. District Judge Joseph H. McKinley Jr. said he understood Spencer was frustrated over missing his mother's funeral while serving a jail sentence and was getting over a drug habit when he wrote the poem.
"But, gee, that's still not an excuse," McKinley told Spencer. "That's an extremely dangerous thing you did."
Spencer will be on supervised release for three years after he completes the sentence.
The poem, titled "The Sniper," was posted on a website called NewSaxon.org, first in 2007 and again in 2009 after Obama took office.
(Excerpt) Read more at greenfieldreporter.com ...
---
VIDEO AND ARTICLE HERE ON SPENCER
SPENCER BACKGROUND HERE
REACTION TO VERDICT
REACTION AT FREE REPUBLIC